Jim Fariss, RPT– My interest in piano work started with the desire to play the piano as an adult and began with an electronic keyboard along with some self study books. After about a year, I was comfortably reading sheet music (easy piano, thank you) and felt the time was right to start practicing on a real piano. I purchased a rebuilt 5' 3" Yamaha baby grand and what a world of difference that made in my enjoyment of both learning and playing the piano.
Living in Central Australia at the time, there were no piano tuners in the area and had to wait for the visiting tuner. He recommended having the piano "regulated" and installing a Dampp-Chaser system due to the dry desert climate. I didn't know what regulation was but after he did that the piano sounded wonderful and I really enjoyed the touch of the keys.
Being a retired Aerospace Engineer, I began to wonder how mechanically the piano was put together, how it functioned, why one upright could produce pleasing tones with warmth and fullness and yet a full grand had less than desirable results. Also, just what was regulating anyway?
Since 2006, I've been studying and practicing piano tuning & repair both here in Colorado Springs and in the beautiful countryside of North Yorkshire, England where my lovely wife Sandy and I were fortunate to live for several years. I am a member of both the Piano Technicians Guild (PTG) as well as the Master Piano Technicians (MPT). Having lived in England, I was able to interact and attend conferences of the British counterpart of the PTG, the Pianoforte Tuners' Association (PTA). I've had the good fortune to tune and work on many unique style British pianos, some of which have found their way to the United States. I have also interned at the Steingraeber & Söhne factory in Bayreuth, Germany. I belong to the Australasian Piano Tuners and Technicians Association (APTTA) as an Australasian Registered Piano Technician (ARPT).
As you search for a competent & trusted technician to take care and advise you on your prized family heirloom or that spinet you just got for free from craigslist, having been a piano player first then becoming a technician, my goal is to listen to what you want from your piano and provide that desire to the best of the pianos ability and within your budget.
It's easy to book online and pick the date and time convenient to you.
Qualifications
My formal piano education was from the Randy Potter School of Piano Technology, a complete correspondence home-study course in piano tuning, repairing, regulating, voicing, apprentice training and business practices. I graduated in the top 10%, earning Highest Honors award.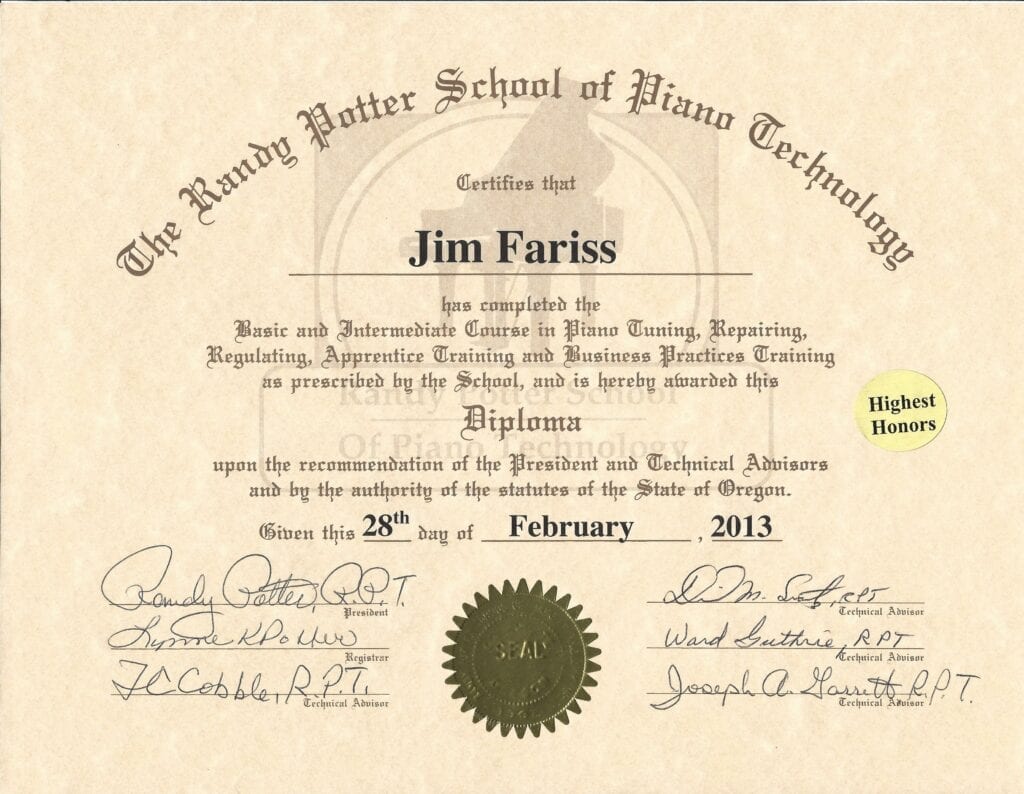 ---
To further my core piano knowledge, I attended the yearly Intermediate & Advanced Training Seminar offered by Randy Potter at the Montana State University School of Music. The six-day, 60-hour seminar includes group lectures and private one-on-one hands-on training in high level tuning and regulating techniques, utilizing Montana State University's School of Music facilities.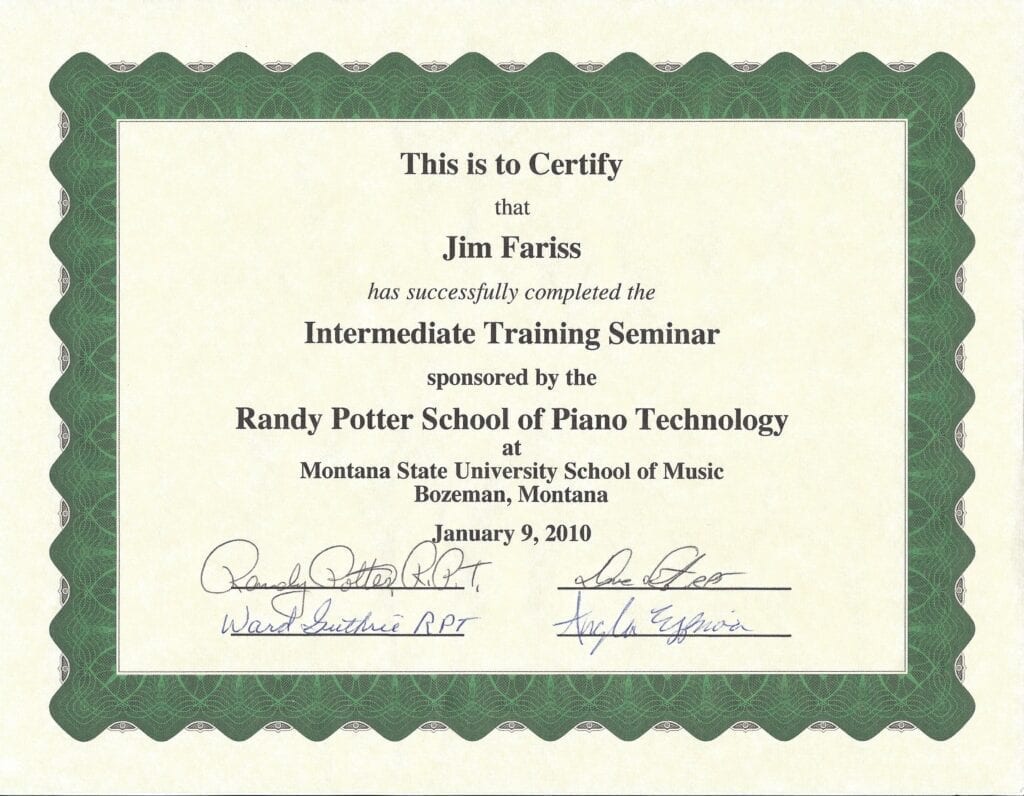 ---
By far, the achievement I'm most proud of is passing the Registered Piano Technician examinations. To attain the RPT classification, a Piano Technician Guild member must pass three examinations. A written exam tests basic knowledge of piano design, tuning theory, repair techniques and various other topics relevant to piano technology. Two separate practical, hands-on exams test tuning and technical skills.
On the tuning exam the candidate must match as closely as possible a "master tuning" created by a panel of examiners. The exam is scored by using extremely sensitive electronic equipment to measure the deviation of the candidate's tuning from the standard thus established. Candidates must demonstrate their ability to tune by ear, unaided by electronics.
The technical exam requires the candidate to demonstrate professional-level skills in assembling a grand and a vertical piano action (the mechanical component of the piano) and in making all the complicated adjustments (called "regulation") so that they function properly. The candidate must also demonstrate facility in various common repairs involving wood, cloth, felt, piano wire and other materials commonly used in pianos.
All the procedures on these exams must be completed in prescribed time periods – thus demonstrating the fluency required of a professional.
---
I attended an intensive three-day skills-based course, "Grand Action Regulation in 37 Steps", based on curriculum from Yamaha's "The Little Red Schoolhouse". Working with personal pianos, small group instruction and individual feedback the class focused on increase action control, even movement, maximizing the dynamic range and achieve the fastest speed of repetition available. Participants were required to pass a final regulation skills assessment at the end of class.
---
In 2011, Sandy and I were part of the PianoWorld.com European Piano Tour and got to visit several German and Austrian Piano Manufacturers. One such "Klaviermanufaktur" was Steingraeber & Söhne which impressed me by its limited output (about 100 pianos a year) and very few machines, mostly built by hand. From that visit, I've worked at securing an internship at the factory in Bayreuth, Germany and three years later was honored to be selected for such a rare opportunity.
Whilst at the factory, I was permitted to work on pianos in excess of $200,000 learning factory level building & preparation. Every single person working at the factory enjoyed their job and had no hesitation in sharing their knowledge with me, encouraging me to try different methods of piano work and also curious to learn how I did such work. What a fantastic time and one I am truly grateful to have experienced.
---
Renner USA is the exclusive representative of the world renowned Renner piano action and hammerheads for North and South America, made by the Louis Renner Company in Germany and hosts The Renner Academy. This one week comprehensive course, held in Scottsdale, Arizona, is designed for piano technicians to expand and perfect their knowledge of grand piano action replacement, repair, regulation, advance hammer selection, preparation, voicing, back action replacement and damper regulation. Each student rebuilds their own piano action and operate the various jigs and machinery at the Renner USA technical shop.
---
A system I truly believe in is the Piano Life Saver or Dampp-Chaser system that regulates the humidity level of your piano, keeping soundboards from cracking, ribs separating from the soundboard and ensuring all the wood pieces within the action and pin block do not dry out. I am a certified installer for Dampp-Chaser systems.
---
Attended a five-day course in May 2017 on the Island of Martha's Vineyard in Massachusetts at the workshop of David Stanwood, the creator Precision TouchDesign™. Grand action geometry theory was discussed and all the techniques to be used are trained. I brought an actual customers' grand piano action to the course which was analyzed and a TouchDesign designed decided upon. At the end of the week, Stanwood Precision TouchDesign was used to reconfigure this, and any action, to a degree of perfect touch and tone that is higher than any achieved before.
I am the only licensed Precision TouchDesign installer authorized by David Stanwood in Colorado.
---
In developing international relationships with other piano technicians, in particular how eduction is done, I was interested in an online piano tuning school that provides such training around the world. The Piano Technician Academy graciously allowed me to review their course and take the exam to become a Certified Piano Technician (CPT). An excellent course for those wanting to start a career in piano tuning and repair.
---
In 2020, I joined the Queensland branch of the Australiasian Piano Tuners and Technicians Association (APTTA) formed in 1984 with over 300 professional members and branch associations in Western Australia, South Australia, Victoria, New South Wales, Queensland, and New Zealand.
---
Being a Registered Piano Technician with the Piano Technicians Guild, we have 'reciprocal rights' between our sister organizations and I am also considered an Australasian Registered Piano Technician (ARPT).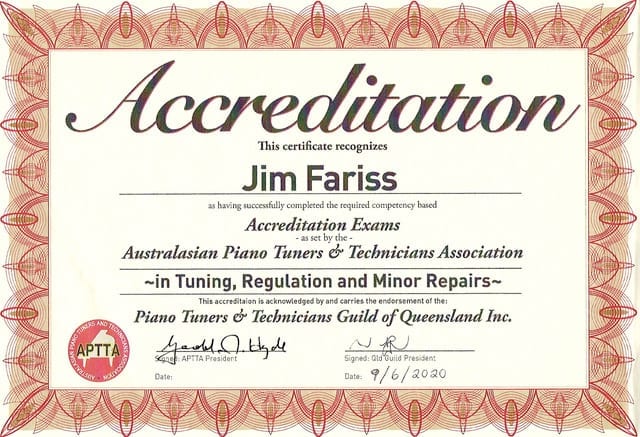 ---
Whilst not part of becoming a competent piano technician, I did earn the title of 'Vox Calliopus' playing a steam calliope during a riverboat cruise on the Mississippi river.
---
If you're ready to get your piano not only in tune but playing the way you want, including fixing those 'sticky' keys, it's easy to book online and pick the date and time convenient to you.
Serving Colorado Springs & surrounding areas (Fountain to the South, Castle Rock to the North).